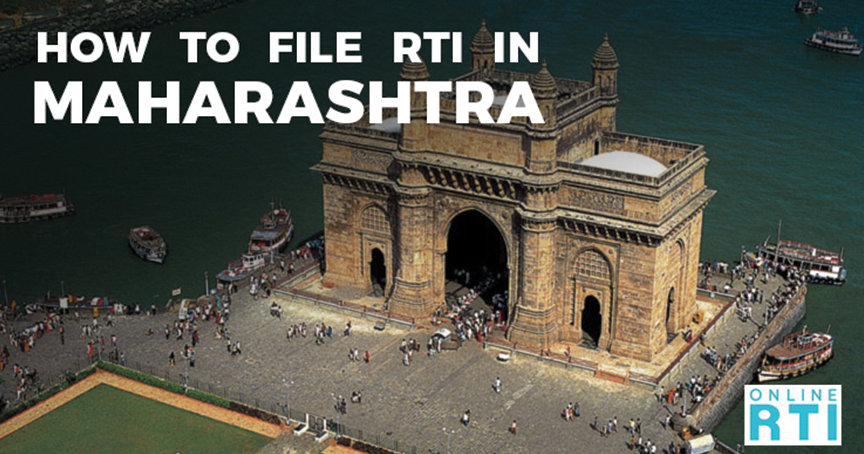 How to File RTI Maharashtra?
The Right to Information Act, 2005 is applicable in all the states of India except for the states of Jammu and Kashmir. However, each state differs in terms of implementation of the Act and each state has different guidelines when it comes to filing an RTI application. If you wish to exercise your right to information and are a resident of Maharashtra, follow steps mentioned below in order to successfully file an RTI application in Maharashtra.
RTI Maharashtra - Offline Method to File Application
There are two ways to file an RTI in Maharashtra, follow the steps below, in order to file an RTI application in offline mode.
Identify the department to which your RTI Maharashtra query should be sent:

The first step involves identifying the department to which the RTI Application must be sent. This is a very important step since mentioning the wrong department could lead to rejection of your RTI Application. Thus, carefully identify which department you wish to extract the information from.

For eg, all civic issues like water problem, garbage, street lights, building permission in cities are under respective corporation. For instance, for a city like Pune or Nagpur it is the municipal corporation of the city - Pune Mahanagarpalika / Nagpur Municipal Corporation, respectively.




Departments under Maharashtra Government

All Maharashtra State Government Departments and local governing bodies in Maharashtra like Municipal Corporations( Brihan Mumbai MahanagarPalika, Pune Municipal Corporation, Thane Municipal Corporation etc) Maharashtra Medical Council, Maharashtra State Road Development Corporation Ltd., Maharashtra School Education & Sport Department, Maharashtra State Board of Secondary and Higher Secondary Education, Maharashtra Housing and Area Development Authority, MAHARASHTRA STATE BOARD OF TECHNICAL EDUCATION, Mumbai University, Maharashtra Pollution Control Board, Maharashtra Public Service Commission, Maharashtra Industrial Development Corporation, Slum Rehabilitation Authority, M.M.R.D.A., Mumbai District Legal Services Authority, Mumbai Metro Rail Corporation Limited, Mahavitaran or Mahadiscom or MSEDCL etc.

List of Maharashtra State Government Departments are as follows:

Agriculture Development & Farmers' Welfare
Backward Communities Development Department
Consumer Affairs
Co-operation
Culture Affairs
Election
Environment
Finance
Fisheries
Food and Civil Supplies
General Administration
Forest and WildLife
General Education
Health & Family Welfare
Higher Education
Home
Housing
Information and Public Relations
Industries and Commerce
Electronics & Information Technology
Labour & Skills
Law
Local Self-Government
Parliamentary Affairs
Planning and Economic Affairs
Personnel & Administrative Reforms
Power
Public Works
Revenue
Scheduled Tribe Development
Scheduled Castes Development
Science, Technology and Environment
Social Justice
Directorate of Sports and Youth Affairs
Stores Purchase
Taxes
Tourism
Transport
Vigilance
Water Resources





Write your questions in the Application:

Once you know the department, begin with writing the RTI Application. Make sure to ask direct and to-the-point questions so that the application is easier to understand. Asking the wrong questions too, could lead to rejection.

Also, make sure you follow the proper format of the application as prescribed by the Government of Maharashtra.





You can write the application in Marathi or English language and will get the reply in Marathi or English. There is a separate format for RTI Form in Marathi.





Also remember, the total number of words in your RTI Application from Maharashtra must not be more than 150.

Pay the fees for your RTI Maharashtra Application:

As per the Maharashtra Government, the application fee for RTI Maharashtra is Rs. 10/-. Attach the fee in the form of Court Fee Stamp.




Submit the application:

Once the above mentioned steps are taken care of, you need to simply send your application via speed post or registered post.
RTI Maharashtra - Online Method to File Application
Maharashtra government does have an option for filing the RTI online and you can do it from
here.
However, there are a few issues with it, mainly being it doesn't support all the departments. For instance you cannot file an Online RTI requests related to any Municipal bodies. Plus, there are issues with whom to address and how to write your queries, such that they are not rejected is always a concern among users trying to file RTI request in Maharashtra.
The alternate method to submit RTI Maharashtra application online is with us. Simply
click here
, to apply online.
You fill up a simple form in very simple English. We will then call you back and understand the RTI request in detail and take care of the rest of the formalities.
Hope this article helped in telling you about how to file RTI Maharashtra application. Feel free to
access our forum
to discuss any further issues and doubts you might have. We will be more than happy to help you.
Nirupam, #32/3, 2nd floor, 1st Main Road, 1st Stage,
Domlur Layout, Bangalore 560071
Copyright © OnlineRTI
2022