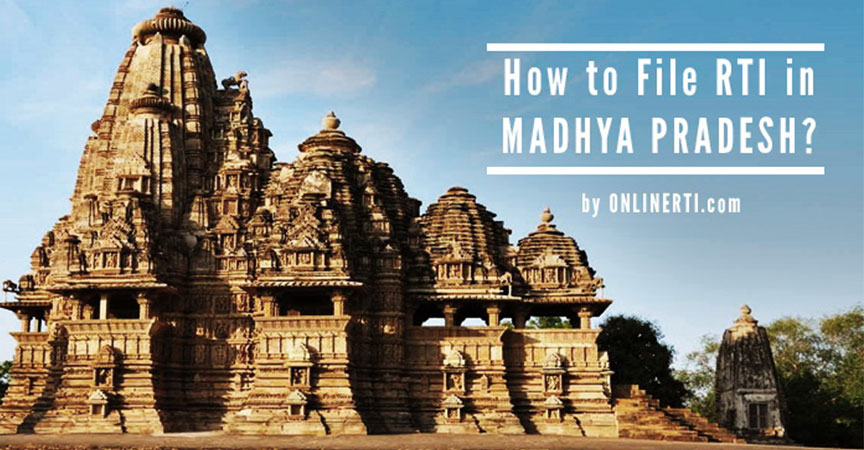 How to File RTI MP Application
Under the Right to Information Act 2005, each citizen of India has the power to ask for certain information from a public authority if he/she desires. The public authority is obligated, as per the act, to provide full information as demanded by the citizen. RTI is accepted in each state of India except for the states of Jammu and Kashmir. However, each state has different guidelines when it comes to the implementation of the act. State guidelines differ in terms of payment fee, application format, mode of sending application and so on. In exercise of the powers conferred by section 27 of the Right to Information Act. 2005 (N0.22 of 2005 ) the State Government, hereby makes the following rules, namely
Madhya Pradesh Right to Information Rules,2005.
If you wish to exercise your right to information, follow the steps mentioned below in order to successfully file an RTI application in Madhya Pradesh.
RTI Madhya Pradesh - File RTI MP Offline:
Let us first begin with how to file an RTI Madhya Pradesh Application without using the internet, that is the "offline mode".
Have a close look at the points mentioned below:
Identify the Department you wish to file the RTI MP Application with

Firstly, identify the department to which your RTI Madhya Pradesh application should be sent. For instance, all civic issues like water problem, garbage, street lights, building permission in cities are under respective corporation like for Bhopal, it will Bhopal Municipal Corporation and so on.




Departments under Madhya Pradesh Government

All Madhya Pradesh State Government Departments and local governing bodies in Madhya Pradesh like Municipal Corporations (Indore Municipal Corporation, Bhopal Municipal Corporation, Gwalior Municipal Corporation, Katni Municipal Corporation etc.) Madhya Pradesh Public Service Commission, Madhya Pradesh State Veterinary Council, Madhya Pradesh Pollution Control Board, Madhya Pradesh Housing & Infrastructure Development Board, Madhya Pradesh Road Development Corporation Limited, Madhya Pradesh Vidyut Vitran Company Limited, Madhya Pradesh State Dental Council, Indian Institute of Management Indore, Indore Development Authority, Mahatma Gandhi Memorial Medical College, Indore, DAVV, Barkatullah Vishwavidyalaya, M.P. Bhoj (Open) University, MP Professional Examination Board etc.

List of Madhya Pradesh State Government Departments are as follows:

Aviation
Backward Classes and Minorities Welfare
Bhopal Gas Tragedy Relief & Rehabilitation Department
Department of Micro, Small & Medium Enterprises
Department of commercial tax
Co-operation Department
Department of Culture
Energy Department
Farmer Welfare and Agriculture Development Department
Finance Department
Fisheries
Directorate Food, Civil Supplies & Consumer Protection
Forest Department
General Administration Department
Department of Higher Education
Home Department
Horticulture & Food processing Department
Housing & Environment Department
Indian Systems of Medicine & Homeopathy (AYUSH)
Department of Science and Technology
Jail Department
Labour Department
Law & Legislative Affairs
Medical Education Department
Mineral Resources Department
Narmada Valley Development Authority
Panchayat & Rural Development Department
Parliamentary Affairs Department
Planning Economics & Statistics Department
Public Enterprises
Public Grievances Redressal Department
Public Health & Family Welfare Department
Public Health Engineering Department
Public Relations Department
Public Service Management
Public Works Department
Rehabilitation Department
Religious Trust & Endowments Department
Revenue Department
Cottage & Rural Industries
School Education Department
Mpcost
Scheduled Castes & Scheduled Tribe Welfare
Social Welfare
Sports & Youth Welfare
Technical Education & Man Power Planning
Tourism Department
Madhya Pradesh Transport Department
Department of Urban Administration and Environment development
Water Resources Department
Women and Child Development Department

Begin writing the Application

Once you are aware of the department, you can begin writing the RTI Application on a piece of paper. There is a special format prescribed by the Madhya Pradesh government, following which the application should be written. If you wish to know the prescribed format,

click here.



However, following the format is not compulsory;

you can write the application on a plain paper

as well.

Also, make sure the questions you ask in your application must be relating to only one issue at a time.
For example if you wish to enquire about construction of a certain road, then ask only those questions which are related to the construction of the road. In cases where more than one issues have to be addressed, multiple RTIs as advised for faster response.


The questions can be asked in Hindi
or English. Similarly, the government might also reply in Hindi or English.
Attach Fees for the RTI MP application
Filing an RTI is not 100% free of cost, each state charges different amount as application fee.
The RTI Madhya Pradesh application fee is Rs. 10/-. Thus next step is to attach Rs. 10/- in the form of IPO along with your application.
Send your Madhya Pradesh Right to Information Application
The final step towards filing an RTI Madhya Pradesh is to send the application along with the attached fee via speed/ registered post.
Filing RTI Madhya Pradesh Online
With the offline process of filing RTI Madhya Pradesh described above, the next question is whether it is possible to file RTI Madhya Pradesh online?
Presently, there is no facility provided by the government of Madhya Pradesh to file an RTI Online. However you can do so with
OnlineRTI.com
It is possible to file RTI MP online request in less than 10 minutes.
All you need to do it fill up a simple form and we will take care of the rest of the formalities!
click here
to apply for filing an RTI Application using our website.
Just fill the simple form and we will call you up to understand your query in detail. Our team of lawyers will then draft the application as per the requirement, language and guidelines acceptable in Madhya Pradesh and file the request on your behalf.
You can just sit back and leave the hard-work to us. So do give us a chance to help you.
Hope we helped you in filing your RTI Madhya Pradesh application. Feel free to ask for doubts or discuss in our
forum.
We are here to help!
Nirupam, #32/3, 2nd floor, 1st Main Road, 1st Stage,
Domlur Layout, Bangalore 560071
Copyright © OnlineRTI
2022