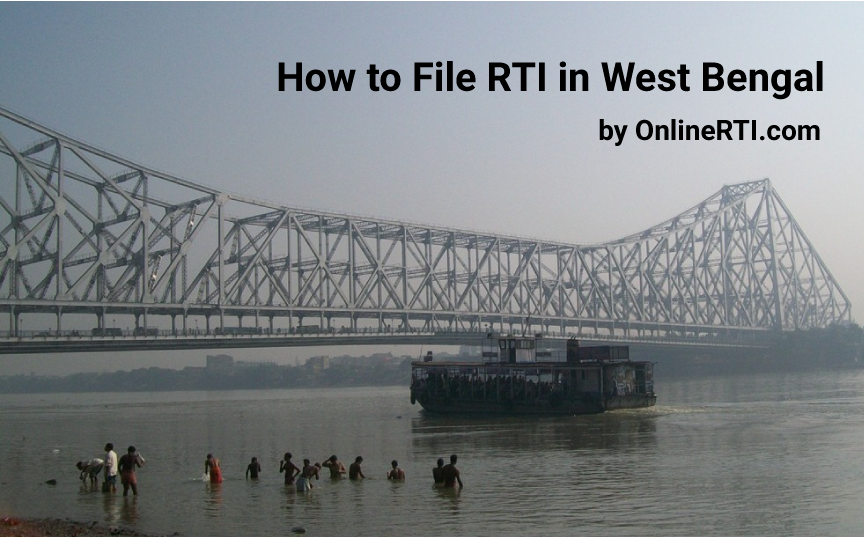 How to file RTI Application for West Bengal:
The Right to Information Act, 2005 is applicable to all States of India except the State of Jammu and Kashmir. However, each State differs in terms of implementation of the Act and each state has different guidelines when it comes to filing RTI application. West Bengal RTI Rules have been made by the Governor in accordance to the provisions of sub section(1) read with sub- section (2) of Section 27 of the Right to Information Act, 2005. It comes into effect from the 10th of March,2006. To enlighten yourself with the rules implemented byWest Bengal, you can read
West Bengal RTI Rules'2006.
If you wish to exercise your Right to Information, follow the steps mentioned below in order to successfully file a RTI Application in the State of West Bengal.
Identify the Department to which you wish to file the RTI Application:

The first step to file an RTI Application is to identify the Department / Public Authority. Section 2 (h) of the RTI Act lays down the definition of Public Authorities that come under the ambit of the Act. For eg, all civic issues like water problem, garbage, street lights, building permission in cities are under respective Corporation. In case the matters pertain to Kolkata Municipal Corporation which is a Public Authority, you should address the same to the Corporation. Following are the List of West Bengal State Government departments to which RTI is applicable.

Departments under West Bengal Government

All West Bengal State Government Departments and local governing bodies in West Bengal like Municipal Corporations(Kolkata Municipal Corporation, Howrah Municipal Corporation, Silliguri Municipal Corporation etc), West Bengal School Service Commission, West Bengal Medical Council, West Bengal Board of Primary Education, Public Service Commission, West Bengal, West Bengal Police Recruitment Board, West Bengal Land Reforms and Tenancy Tribunal, West Bengal Pharmacy Council, West Bengal State University, West Bengal Housing Board, West Bengal Council of Higher Secondary Education, West Bengal State Dental Council, New Town Kolkata Development Authority, Kolkata Metropolitan Development Authority, West Bengal Pollution Control Board etc.

List of State Government Departments are as follows:

Agriculture
Agriculture Marketing
Animal Resources Development
Backward Classes Welfare
Consumer Affairs
Co-operation
Correctional Administration
Disaster Management and Civil Defence
Environment
Finance
Fire and Emergency Services
Fisheries
Food and Supplies
Food Processing Industries and Horticulture
Forest
Health and Family Welfare
Higher Education
Home and Hill Affairs
Housing
Information and Cultural Affairs
Information Technology & Electronics and e-Governance
Irrigation and Waterways
Judicial
Labour
Land and Land Reforms & Refugee Relief and Rehabilitation
Industry Commerce and Enterprises

Law
Mass Education Extension and Library Services
Micro Small and Medium Enterprises and Textiles
Minorities Affairs and Madrasah Education
North Bengal Development
Panchayat and Rural Development
Parliamentary Affairs
Paschimanchal Unnayan Affairs
Personnel and Administrative Reforms
Planning, Statistics & Programme Monitoring
Power and Non-Conventional Energy Sources
Public Health Engineering
Public Works
School Education
Science and Technology and Biotechnology
Self Help Group and Self Employment
Sundarban Affairs
Technical Education, Training & Skill Development
Tourism
Transport
Tribal Development
Urban Development and Municipal Affairs
Water Resources Investigation and Development
Women & Child Development and Social Welfare
Youth Services and Sports

Write your queries in the Application:

You should address your queries in the Application in simple language, you can write the application in English or Bengali Language. It is important to note that "Wh" questions are not entertained in RTI. For eg, you wish to know the Status of your Water Connection Application from Kolkata Municipal Corporation, you can frame the question as "Please provide information pertaining to the Status of the Water Connection" or "Please provide Reasons as per Record for Delay in issuing the Connection" instead of asking "Why is the Water connection not issued". Also you cannot ask Situation Based questions / clarifications involving "If" in the application.

Whom should the RTI Application be addressed to?

Under the RTI Act, 2005 every department should appoint a Public Information Officer (PIO) who is responsible to receive and reply to RTI applications filed to that department. Hence, all the RTI applications should be addressed to the Public Information Officer of that Department.

When will the response be provided to your RTI Application?

According to the RTI Act, the response to the RTI application in West Bengal, or any other state should be provided by the PIO within 30 days from the receipt of the same. This includes applications made online or offline. If the information requested in the RTI relates to another department, then the PIO is mandated to transfer the same within 5 days from the receipt of the RTI to that department who has the information. A First Appeal can be filed to the First Appellate Authority (FAA) if there is no response from the government office after completion of 30 days or if the Applicant is not satisfied with the response of RTI Application.

In case you are not satisfied with the outcome of the First Appeal, or there has been no order passed by FAA, A Second Appeal can be filed to West Bengal Information Commission.

Pay the Prescribed fee as per West Bengal RTI Rules:

You have to make a Payment of Court Fee of Rs. 10/- to obtain information from the SPIO/SAPIO, under Section 6 (1) of the Act. Attach the fee in the form of Court Fee Stamp along with the Application. You can also make a payment in the mode of a non-Judicial Stamp Paper of Rs.10 or by Demand Draft/Banker's Cheque/ Indian Postal Order payable in favour of " (name of the link bank) a/c Government of West Bengal, RTI Rules.

Submit the Application:

Once the application is drafted as per the Steps mentioned above, you should send your application via speed post or registered post to the concerned Department.




To file an RTI Application on OnlineRTI, follow the steps below:
Visit the

Apply

page and write your question in simple English.

Proceed with the Payment to complete your application.
Our Team of RTI experts and lawyers will draft your application and we will send it to you for your approval. After your approval, we will post and send your application to the concerned Public Authority / Department.
To know more about the procedure to file RTI on OnlineRTI, please visit
OnlineRTI.com
Nirupam, #32/3, 2nd floor, 1st Main Road, 1st Stage,
Domlur Layout, Bangalore 560071
Copyright © OnlineRTI 2019